It's been a long time in the making, but it seems that Virgin America is finally ready to take flight. The startup, another feather in the hat of UK billionaire Richard Branson, has begun issuing tickets for August flights beginning August 8th. And although the service is limited to San Francisco to New York, and San Francisco to Los Angeles, they're selling them on the cheap. I just looked up a round trip from SF to NY on August 10th: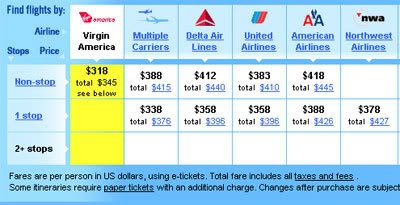 As the Department of Transportation doesn't allow them foreigners to have "actual control" of domestic carriers (what could possibly go wrong?), there's been a bit of corporate restructuring so that homeboy Branson doesn't have as much to do with this company. They're even asking the CEO, Fred Reid, to step down, since Branson hired him.
But here's the totally rad news. According to The Small Print Project, although Virgin America has already begun to issue tickets, Virgin America hasn't cleared all the red tape. They found this tidbit in the Orbitz ordering system:
Please Note: Virgin America does not currently have authority from the Department of Transportation to operate the services for which your ticket is being issued. You may, upon request, cancel your ticket and obtain a full refund from Virgin America at any time before the start of operations.
If operations have not started prior to your travel date, Virgin America will make reasonable efforts to arrange substitute air transportation for you. If substitute transportation cannot be arranged, Virgin America will refund to you 200% of the price paid for your ticket.
San Francisco Business Times further confirms this:
Virgin America got a waiver from federal regulators to begin selling tickets while it finalizes changes to its corporate structure that distance the airline from foreign control. If Virgin America has not finalized the changes before it begins flying, the airline said it will arrange a flight on another carrier or refund ticket buyers.
So as Small Print points out, it's time to start buying ticket blocks in hopes that Virgin America gets grounded and can't make good on its flight schedule. By no means a crippling blow to a company part-owned by a billionaire, but it's still gotta be a sting in old Branson's side.
But hey, it only hurts the first time, right?