Lennon & Berry
Published on October 9, 2007 by spencer · No Comments
As it's John Lennon's birthday and I'm not about to sit here and do what I'm supposed to be doing (editing articles so Dubs can be happy with life), I did a little more John Lennon research (read: googling off.)
For instance, most song lyric sites have the David Bowie lyric to "Life on Mars" wrong. "Now the workers have struck for fame / 'Cause Lennon's on sale again." Workers? Lenin? C'MON."
One of the articles I edited made a reference to Chuck Berry, so I started looking him up. And then serendipity struck.
It's cool to see John Lennon jamming with Chuck Berry, but the best part is Chuck's facial expression when Yoko Ono starts…er…singing?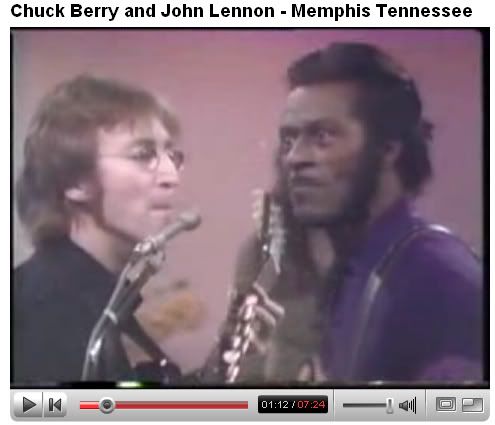 1:12. Classic.
I am now looking up "Chuck Berry" and "pee pee," because I vaguely remember stories about how he, in his personal life, has a sexual proclivity towards "waste play." I'll post what I find next…this is by far my most productive day at Synthesis, ever.
Tags: Berry, Chuck, David Bowie, google, googleing off, John, Lenin, Lennon, life on Mars, Ono, pee, waste play, workers, Yoko