Kathy Griffin *hearts* Jesus
Published on September 13, 2007 by Dallas VonKillbot · No Comments
Syke. Griffin got knocked down yet another step on the Hollywood totem pole after her acceptance speech during the taping of the Creative Arts Emmys.
"A lot of people come up here and thank Jesus for this award. I want you to know that no one had less to do with this award than Jesus," an exultant Griffin said, holding up her statuette.
The As of now, Christian groups already tagged it as 'hate speech', and I'm sure Fox News will be on this like a cheap suit instead of the far less interesting problems in Darfur, Iraq, etc.
Props to Kathy… I'm not condoning Jesus hating and whatnot, but this is the most press shes received since Synthesis writer Spencer tried to convince the entire internet that her and Andy Dick were the same person.
Greatest line: "Suck it, Jesus, this award is my god now".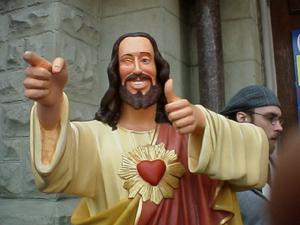 Tags: Emmy, Emmys, Jebus, Jesus, Kathy Griffin, Von Killbot Naked