Interview With Lamb of God
Published on December 8, 2008 by Dallas VonKillbot · 5 Comments
It's been kind of a slow news day on the internetz, and I'm not quite in the mood to try to blog about the absolute crap that Google's hot trends is putting out right now.  Instead of faking some BS blog, here's my recent interview with Mark Morton from Lamb of God.

It must be a beautiful view from the top, and no one would know better than Virginia based band Lamb of God. Over the course of about 10 years, they've completely revolutionized a genre, sold hundreds of thousands of records and have had a Grammy nomination. This assault on the music industry was built from the ground up, focusing around endless touring and a legion of diehard, loyal fans, who have launched this band to become the leaders of the New Wave of American Heavy Metal. Now, with a new record set to drop in early 2009 and a spot on tour with Metallica, it seems there's no stopping them. Synthesis recently caught up with guitarist Mark Morton to rap about expectations, the state of the record industry and what it's like being on the apex of the metal world.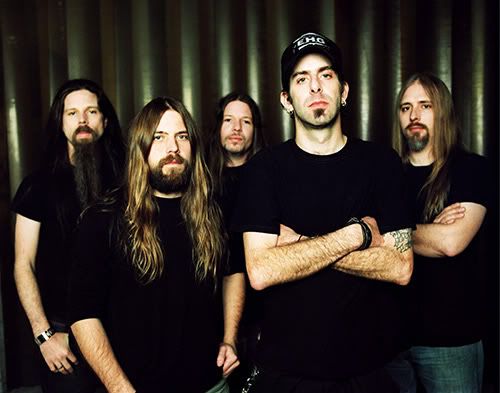 Let's talk about the upcoming record Wrath. It's set for a February release…
Yea, I believe it's right at the end of February.

What kind of changes are we going to expect as opposed to the last record, Sacrament?
There are definitely some changes; fairly significant ones, I would say. Overall I would characterize this record as a bit more raw, a little more aggressive and organic. To me, this record is more like a band in front of you playing it, where as on Sacrament there was more studio polish going on. It's not to knock it, but it's just a different approach to making a record. We were really trying to achieve a certain level of perfection when it came to Sacrament, which largely we did, but with Wrath we were trying to go for more of a character, you know? There was a lot of stuff on there that weren't perfect takes, but we left it because they sounded cool and had their own identity.

Do you have any worries trying to live up to the last CD's accomplishments?
No, I don't think so. Those are things that are out of our control. We just made the record that we wanted to make. That's what we've done this time, and that's all we've ever done. How many units we sell or weather or not it goes up for a Grammy again or whatever, I don't have anything to do with that. I'm certainly pleased that those things happened and appreciate the honors, but at the end of the day it really has very little to do with me, I just make the music.

We all know right now that the music industry is suffering, especially putting things out on a major label. You guys released the Deluxe Producer's Edition of Sacrament with the instrument tracks available for the fans to remix. How are bands supposed to make money now in a dying industry?
You're correct that it's a very different day and age for the music industry, and it has been for a while. From my perspective, and I've been in the game a little while now, it was never about record sales. I mean it's great selling records; we've sold a bunch of them and I'm glad we have, but in terms of how we make a living, it's about hitting the road and playing shows. It's about tickets and t-shirts and putting on a show, and from the first time we got paid $100 at a bar until now where we're all making a full time living out of it, that's what it's been all about.
I think it's the record companies that are really taking a hit and are scurrying to stop the bleeding and to try to figure out how to salvage that whole industry. For us, we hope to sell a lot of records, and it certainly does us well when we do, but ultimately it's about touring and putting on a show and playing this music live. Putting records out for us is just us kind of spitting out our new material and giving people something to listen to in between shows.
Branching off of that then, what are your views on piracy?
I don't think my band would be what it is today without file sharing and people passing music around. I think that was the foundation of us initially promoting the band. For me to have reaped the benefits of file sharing, and now turn on it and say it's the enemy, I don't think that that would be right. Back in the 80′s we used to record blank cassettes and dub tapes and that didn't kill the industry. I think the key as an artist is making your record something that people want to have physically in their hands through things like cool packaging or providing a kind of added value to your record that makes it worth someone going out and spending $20 on it rather than ripping it off some website, and we try to do that, and it's something we take pretty seriously.
Being pretty much the leaders of the New Wave of American Heavy Metal, where do you see the current state of metal going right now?
It seems to be getting more specialized to me. I'm 36 years old, so I was listening to metal 20 years ago. In 1988, there were certain styles of metal, you know, thrash metal, glam metal, etc., but now there seams to be very specialized genres that people talk about. Kids say they're only into progressive or Norwegian black metal, but for me as an old guy, metal is metal. I'll know it when I hear it, and outside of that I don't care much for the specific tags.
It's changed that people are very specific about what they look for in bands, and I thought there was a lot more bands than there ever have been. Maybe it's because there's more people into it, maybe it's because it's easier to promote the bands via Myspace and things like that, but there's really just a flood of acts right now, and it takes a while to weed through the mediocrity to find good stuff, but there's for sure some killer new stuff going on right now.
Interview With Lamb of God

,