If you haven't been following this story, I would suggest checking out our previous posts here and here.
Usually I love the immaturity that spawns from bullshit band situations like this. There's a certain art, however, to going about making yourself look good when you're in a position like bass player Max Green is in now. How hard can it be to be the better man when the other guy in question is in jail from skipping parole, having battery charges and was in a brawl that left a kid dead? Well, I'll let his blog do the talking…
To Ronnie Radke formely of Escape The Fate
Current mood: fuckin over it
I REALLY HOPE THAT RONNIE LEARNS TO TAKE RESPONSIBILITY FOR HIS OWN ACTIONS BECAUSE HE NEVER EVER HAS, AND THAT WAS ALWAYS THE REASON FOR PROBLEMS IN THE BAND.
HE WENT OUT TO THE DESERT THAT DAY, HE BROUGHT A WEAPON AND HE CHOSE TO NOT QUIT DOING DRUGS.
ALL THE WHILE I PRACTICALLY BEGGED HIM NOT TO GO TELLING HIM HOW ITS NOT WORTH IT AND WHO CARES.
All capslock? UNLEASH THE FURY!!!!!
AND AS FAR AS ME BEING THE CULPRIT AND DESERVING TO BE IN PRISON INSTEAD OF RONNIE…….WELL THATS THE BIGGEST LOAD OF SHIT IVE EVER HEARD, I DIDNT BRING A WEAPON TO A FIST FIGHT, I DIDNT TELL MY FRIENDS TO COME BACK ME UP AND TELL THEM TO BRING THEIR GUNS, I DIDNT STEAL MY DRUMMERS BAND DEBIT CARD AND SPEND ALL OF EVERYONES HARD EARNED MONEY ON DRUGS AND THEN LIE AND ACCUSE OTHER PEOPLE OF IT. AND I DONT HAVE A RECORD FOR DRUGS AND OTHER SHIT.
AS A MATTER OF FACT I DONT HAVE A RECORD FOR ANYTHING AND I HAD NO INVOLVEMENT AT ALL IN ANY WAY WITH THE EVENTS THAT HAPPENED THAT DAY IN THE DESERT.
AS FAR AS PEOPLE SAYING RONNIE NEEDS A 2ND CHANCE AND ITS NOT FAIR, WELL HES HAD WAY TO MANY 2ND CHANCES, AFTER REHAB, AFTER THE INVOLVEMENT IN THE MURDER, AFTER THE PROBATION, AFTER GETTING KICKED OFF TOURS FOR DELIBERATELY STARTING PROBLEMS WITH THE WRONG PEOPLE AND ABOUT A MILLION OTHER TIMES AS WELL.
SORRY RONNIE OR WHOEVER WROTE THAT BLOG FOR HIM, BUT YOU WERE NEVER THE BAND, PERIOD.
YOU CAN THINK YOU ARE AND THAT YOU DID EVERYTHING ALL YOU WANT, BUT YOUR WRONG!!
YOUR A LEGEND IN YOUR OWN MIND, AND NOW THAT YOUR NOT IN THE BAND ANYMORE WE CAN ACTUALLY ACT LIKE A REAL BAND AND GO ON TOUR AND LEAVE THE UNITED STATES, LIKE HOW WE JUST WENT TO NEW ZEALAND AND AUSTRALIA.

ILL NEVER LIVE IN YOUR SHADOW AND I WOULD NEVER WANT TO, I DONT RESPECT YOU AND I DONT ADMIRE OR LOOK UP TO YOU IN THE LEAST BIT OF ANY WAY.

NOT YOUR FRIEND,
MAX GREEN
Kinda TL;DR, but I know the fan-girls will appreciate it.  I listened to their music for the first time yesterday, and needless to say I wasn't too impressed.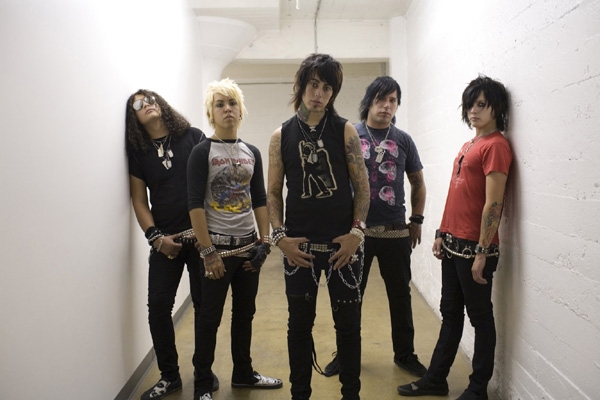 Escape the Fate Responds to Ronnie Radke

,